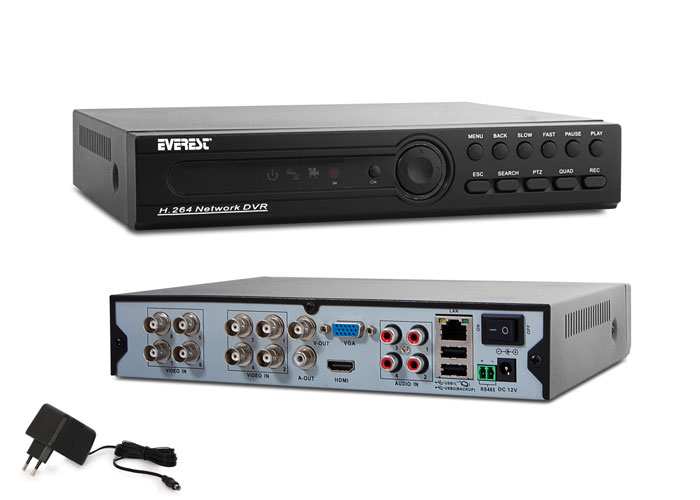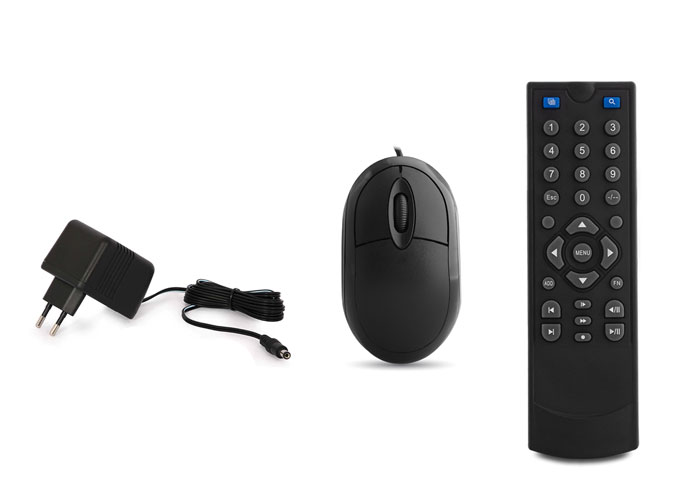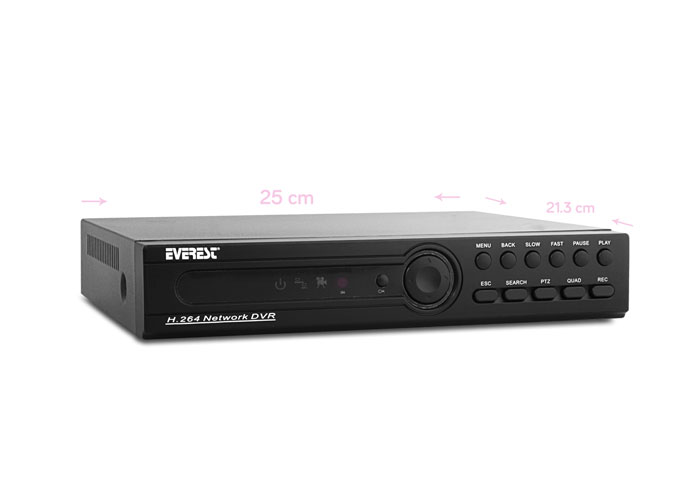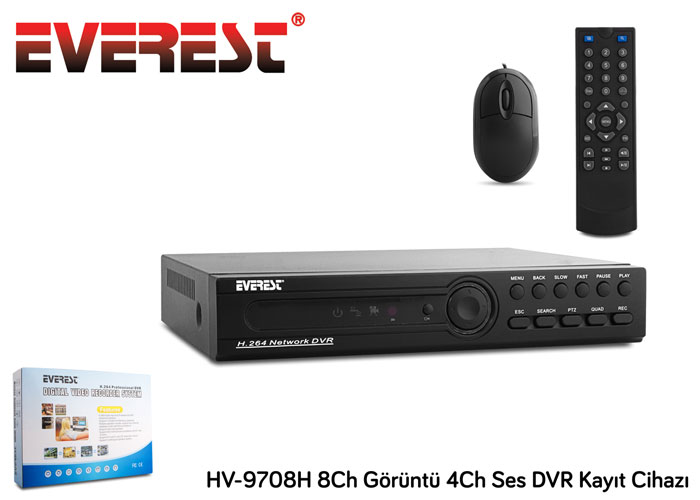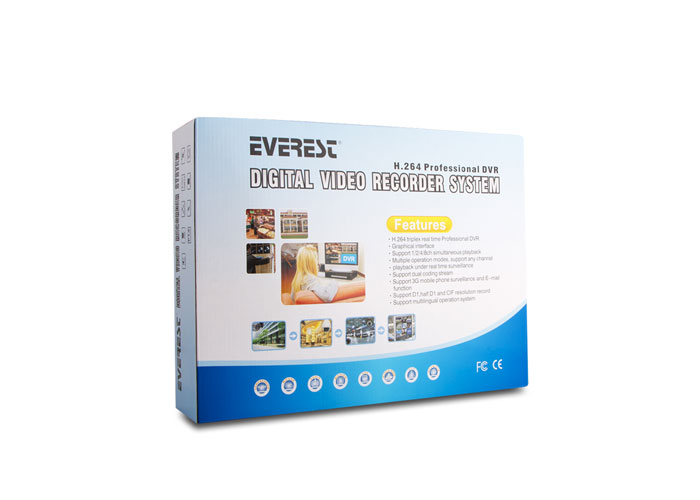 Everest HV-9708H 8Ch Image HDMI H.960 4Ch Audio DVR Recorder
8ch *960H display and 4ch 960H playback,with vga,ptz,4ch audio,,with remote controller and mouse,2A adaptor,european plug.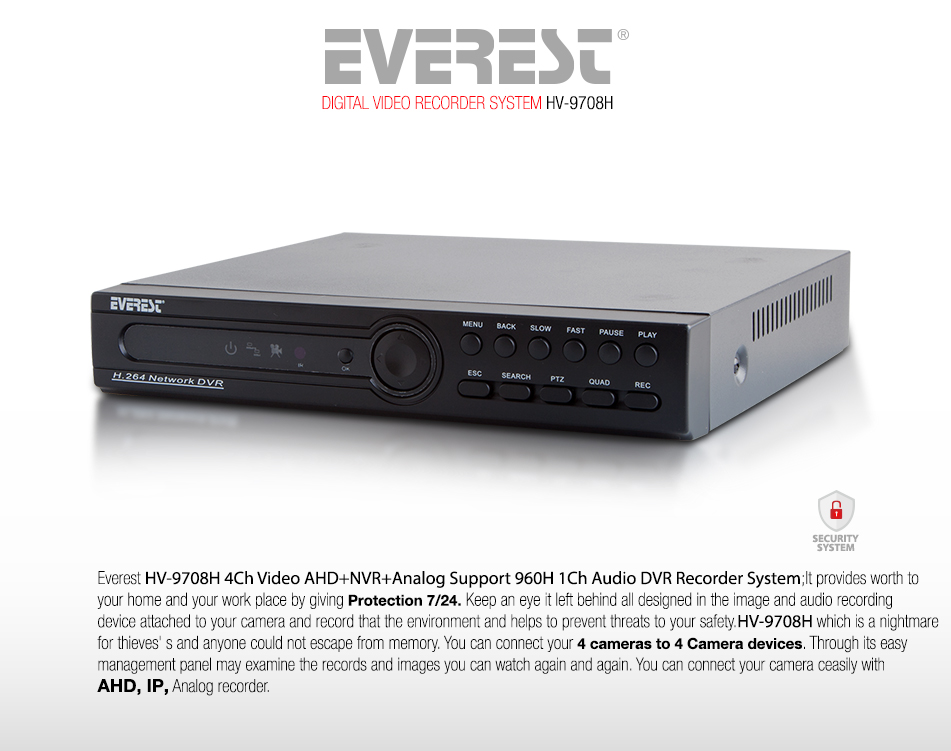 Everest HV-9708H 8Ch Video NVR+Analog Support 960H 4Ch Audio DVR Recorder System; It provides worth to your home and your work place by giving Protection 7/24. Keep an eye it left behind all designed in the image and audio recording device attached to your camera and record that the environment and helps to prevent threats to your safety. HV-9708H which is a nightmare for thieves' s and anyone could not escape from memory. You can connect your 8 cameras to 8 Camera devices. Through its easy management panel may examine the records and images you can watch again and again. You can connect your camera easily with AHD, IP, Analog recorder.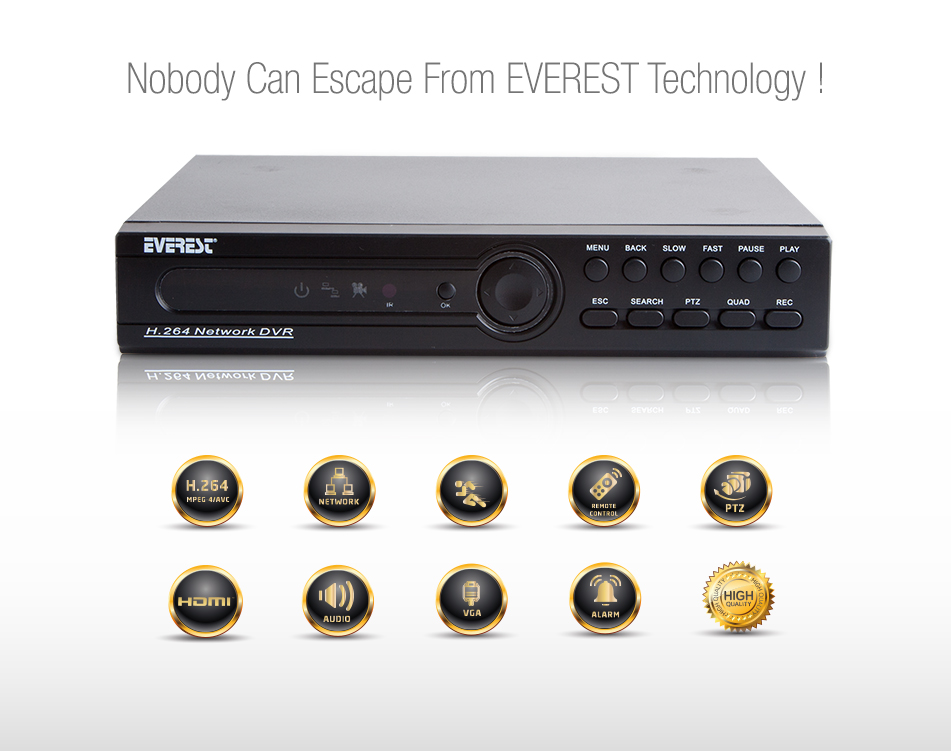 Everest HV-9708H 8Ch Video AHD+NVR+Analog Support 960H 4Ch Audio DVR Recorder System; H.264 MPEG-4 / AVC format has a video recording feature can record images in a lossless manner. 8 devices let you record an audio image in the camera by connecting 8 cameras. Self-Adaptive RJ45 10/100 Base-T can adapt quickly to your network via the Ethernet port. With motion detection feature allows more efficient use of your storage space by preventing the unnecessary loss of image. You can control whether you want to control with the mouse device. If you have camera control Dome you can connect your camera to your device through the PTZ feature. Everest HV-9708H in the way you want, you can use the VGA and HDMI output according to your request.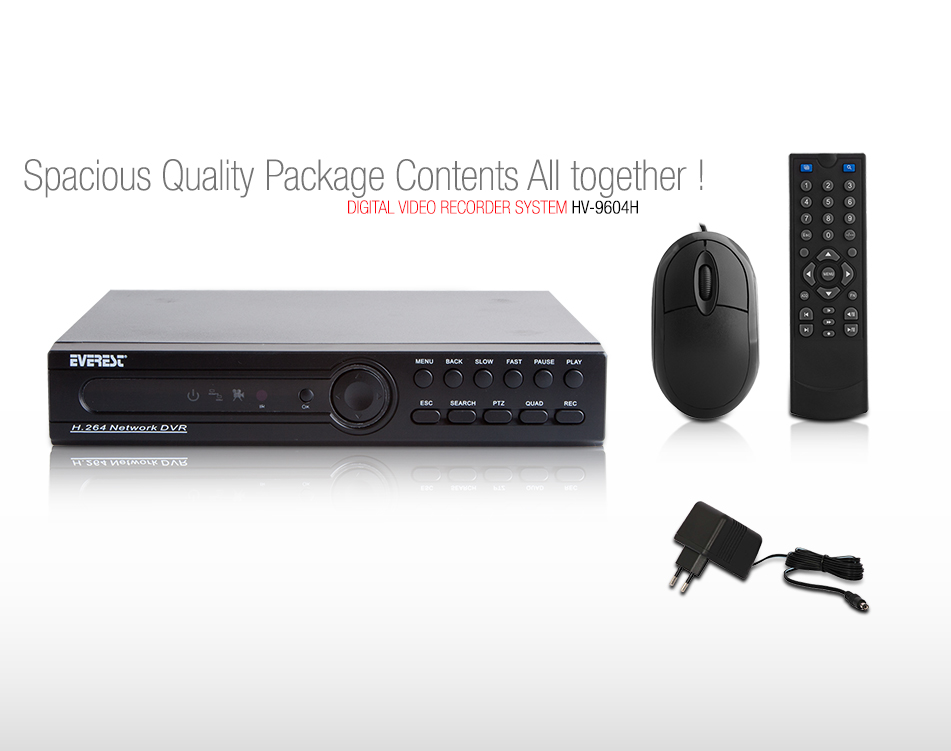 Everest HV-9708H 8Ch Video AHD+NVR+Analog Support 960H 4Ch Audio DVR Recorder System; Controls included in the package contents, due to control your mouse and your device will be easier to perform your operation, these devices will save you time. Everest HV-9708H 1 SATA HDD has a capacity of 3TB.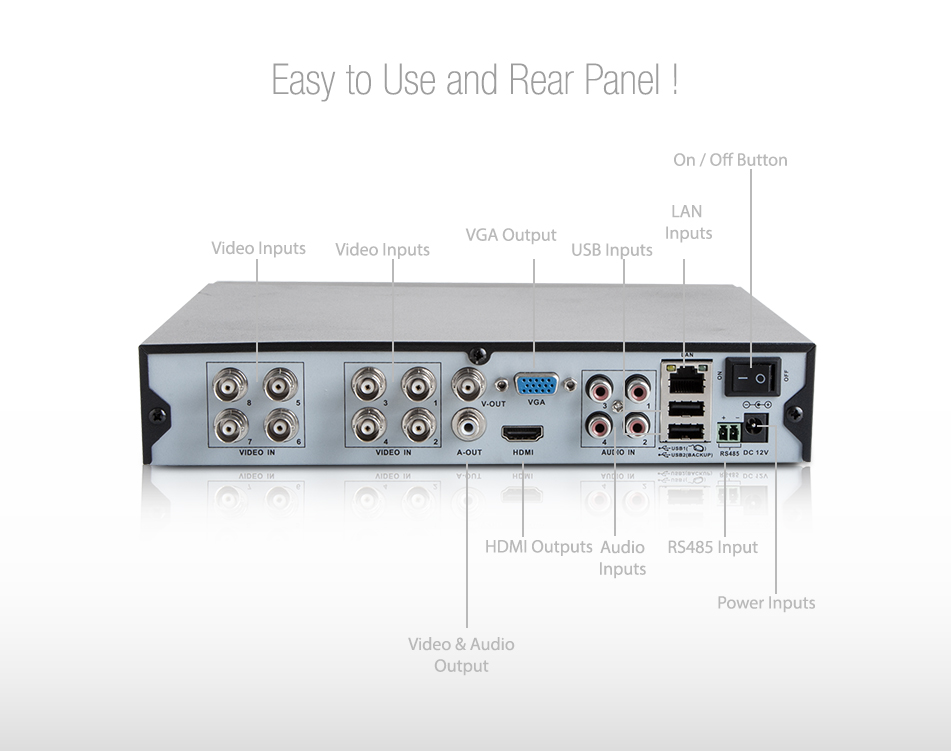 Everest HV-9708H 8Ch Video AHD+NVR+Analog Support 960H 4Ch Audio DVR Recorder System; The background of the device is designed in a very simple and understandable manner. With the input and output ports, explanatory articles placed on the environment has become more easy and simple installation for you. You can output the image transfer request to the appropriate image transfer due to 3 different outputs.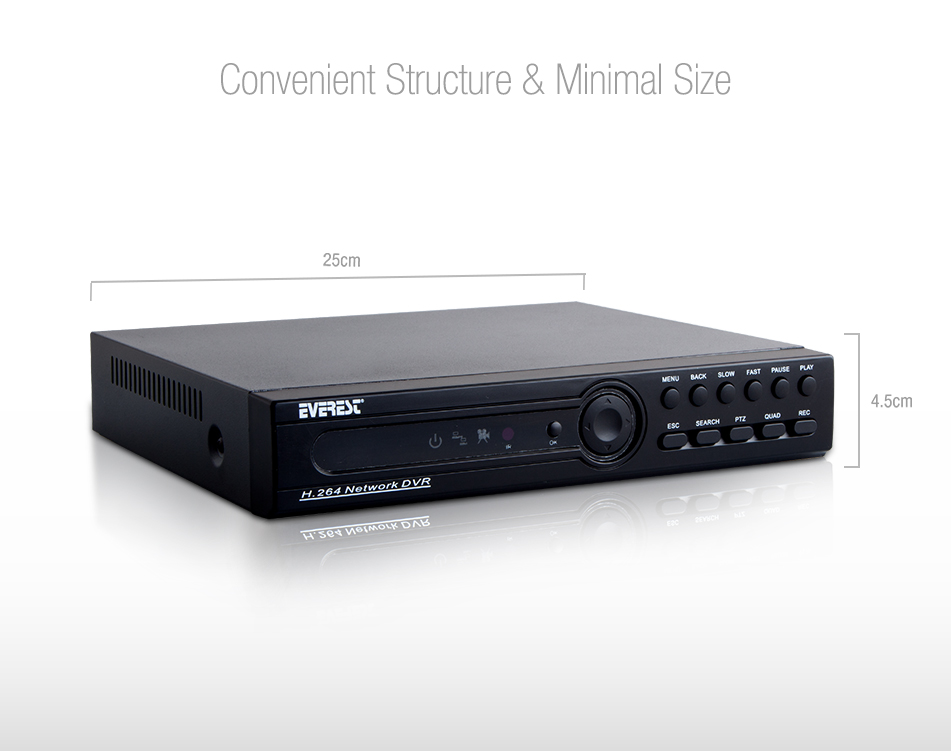 Everest HV-9708H 8Ch Video AHD+NVR+Analog Support 960H 4Ch Audio DVR Recorder System; 250x45mm in size and designed in an elegant aesthetic form, Everest HV-9708H is a feature has been designed with minimal size to respond fully to your needs visually.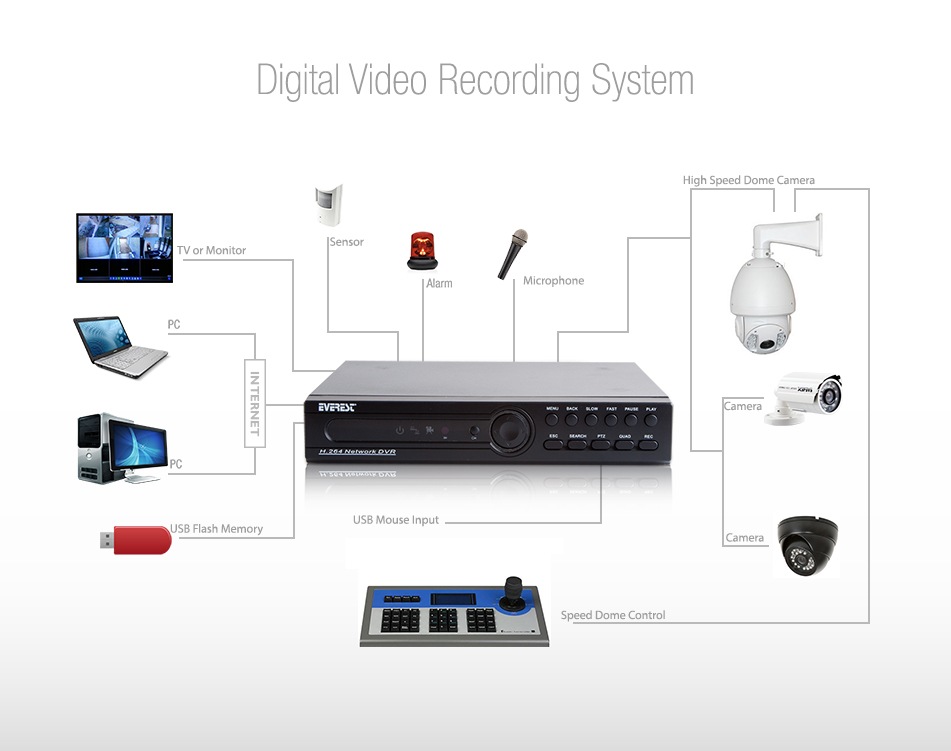 Everest HV-9708H 8Ch Video AHD+NVR+Analog Support 960H 4Ch Audio DVR Recorder System; 28 languages support available, Your first installation of the device in the Turkish language support is available with the device allows you to ease your installation directing the Turkish language. Everest HV-9708H offers you extensive connectivity options and connect to compatible devices to your request headset 7/24 in yourself makes you feel safe.
Özellikler
No-alarm Model
Model
Everest HV-9708H 8Ch Video HDMI H.960 4Ch Audio DVR Recording System
With alarm Model
Model
DVR-AH3808BW (A,K,R,L,M,Y,P)
System
Main processor
Industrial grade embedded micro controller chip Huawei Hisilicon chipset 3520D
Operating system
Embedded LINUX operating system
System resource
Multi-channel real-time recording synchronously, multi-channel real-time playback,
multi-channel multi-user network operation, USB back up.
Display
Operation interface
16 bit real color GUI interface support mouse operation
Multilingual Language
YES, 28 kinds of language
Display screen
1/4 Screen
1/4/8/9 Screen
Video
Video Standard
PAL(625 lines, 50fps); NTSC(525lines, 60fps)
Image encode
H.264(Main Profile)
Monitor quality
Monitor:D1; VGA & HDMI: (1920*1080,1280*720,1440*900,1280*1024,1024*768)
Playback quality
960H/D1/HD1/CIF
Encode capability
8ch 960H@12fps /8ch D1@25fps /8ch D1@15fps
Decode capability
2ch 960H@12fps / 4ch D1(1 D1@25fps+3 D1) /8ch D1@15fps
Multi-Input
(ONVIF 2.3)
NO
Audio
Audio compression
G.711A
Record and playback
Record mode
Manual, alarm, motion detection, timing
Snapshot
HD1 mode: Supporting snapshot(0.5s/fps,1s/fps…5 s/fps)
Local playback
1ch– 8ch
Video search
Time, date, event, channel search
Storage and back up
Space Usage
Video CIF:4~5G/day*channel,D1:16~20G/day *channel,960H:9~42G/day*channel,720P:10G~42G/day*channel,1080P:20G~80G/day*channel,Audio 691.2M/day *channel
Video storage
Local Hard Disk, Network
Back up mode
Network backup, USB portable HDD, USB DVD-RW
Interface
Video input
8ch BNC(1.0Vp-p,75Ω)
Video output
1ch BNC(1.0Vp-p,75Ω), 1ch VGA, 1ch HDMI
Audio input
8ch RCA (200-2800mV,30KΩ)
Audio output
1ch RCA (200-3000mV,5KΩ)/1ch HDMI audio output
Alarm input
4ch(default: not supporting but can order)
Alarm output
1ch(default: not supportingbut can order)
Network port
1*RJ45 10/100 Base-T self-adaptive Ethernet port
PTZ control
1*RS485 port, Support more than 20 kinds protocols.
USB port
Support USB 2.0 port
HDD port
Accommodates 1 SATA HDDs (1 HDD capacity up to 3TB)
Wireless Port
3G & WIFI ( Extended by USB)
User
User level
Admin / User
User right
Users can set different permissions (How to use please refer to the manual book)
Password protection
YES
Remote
Remote Independent Operation
YES
Download records
YES
Remote Event Trigger Recording
YES
CMS
CMS Software for multiple DVR (up to 255 DVR simultaneously)
Browser
Internet Explorer, Mozilla Firefox, Google Chrome, Safari
Live Audio
YES
On-line user
Max. 10
Mobile Surveillance
YES (Support iPad, iPhone, BlackBerry, Windows Mobile, Symbian & Android;iPad, iPhone, Andriod have remote playback function)
Network Protocol
DHCP?PPPOE?NTP?Email?IP Authority?DDNS?FTP?ARSP?Alarm Center?Wireless Dialing?Mobile Monitor?UPNP?Wifi?RTSP?Cloud Service
Alarm
Motion detection
16 × 12 grids per channel;6 adjustable parameters for accurate detection(for local analog channel only)
Event Notification
FTP / E-Mail
Pre-alarm Recording
YES
Video loss
Video loss notification
Buzzer
YES
Other
IR remote controller
Remotely control DVR and PTZ cameras via IR transmitter (IR receiver built-in)
Remote control
YES
Cooling fan
NO
Tour
YES
Power Source (±10%)
DC 12V / 2A
Power Consumption (±10%)
<10W(without HDD)
Operating Temperature
0?~ +55?
Dimensions (mm) **
250mm(L)* 210mm(W)* 45mm(H)
System Recovery
System auto recovery after power failure
Package
Net Weight
0.95KG±0.1KG
Carton Box Size
5 units packaging:358mm(L)* 83mm(W)* 270mm(H); 10 units packaging:325mm(L)* 80mm(W)*255mm(H) ;
Package Size
5 units packaging:440mm(L)* 375mm(W)*285mm(H) ; 10 units packaging:415mm(L)* 335mm(W)*525mm(H) ;
Gross Weight
5 units packaging:7.5kg±0.5kg; 10 units packaging:14.0kg±0.5kg;
Was the product as you expected?
SPECIFICATIONS
You can list all the technical specifications of this product! Is this your product?
| | |
| --- | --- |
| Network Interface | DHCP,PPPOE,NTP,E-POSTA,IP YETKISI,DDNS,FTP,ARSP |
| Alarm In/Out | Available |
| Viewing with a Mobile Phone | Windows,Symbian,İphone,Blackberry, Android |
| Codec | HDMI H.960 |
| Work Media | 16 bit True Color GUI Interface Supports Mouse Operation |
| Operating Temprature | 0 C - 50 C |
| Resolution | 960H/D1/HD1/CIF |
| Language Options | 28 |
| Image Channel | 8Ch |
| Power Source | 12v |
| Processor | Industrial Class Embedded Micro Controller Chip Huawei Hisilicon Chip Set 3520D |
| Operating System | Linux |
| Brand | Everest |
| Model | HV-9708H |
| Monitor Management | Monitor:D1; VGA HDMI: (1920*1080,1280*720,1440*900,1280*1024,1024*768) |
| Measures (Net) | 25x4.5 Cm |
| Audio Channel | 4Ch audio |
| System Resources | Simultaneously multi-channel real-time recording, multi-channel real-time playback, |
| Cooling | No |
| Remote control | Remotely control DVR and PTZ Cameras via IR transmitter |
| Video Standards | PAL (625 , 50FPS) ; NTSC (525 Hatlar,60 fps ) |